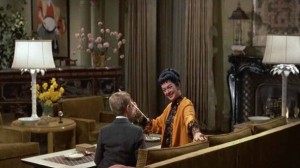 "… let's sit down for one minute and we'll really get to know each other." Auntie Mame
Hi. I am Sarah.
I have a passion for classic movies.  All the movies that I have seen have a place in my life.  The music scores, a favorite line, a scene or even a costume or prop can be relatable to current situations or events.  Just like the above quote from Rosalind Russell when she played Auntie Mame.  This is my chance to sit down with you for one minute and have you really get to know me and my life of movies.
Hang out for a while and have fun looking around.
Sarah